Part II, In-the-Outside-Art-Tour 2017
As of 29 October 2017, the second edition of the In-the-Outside-Art-Tour has begun.
Rotterdam is now enriched with a new museum.
In the Pop-Up-Grow-Big Museum, you can see a splendid collection of leading Outsider Art from home and abroad.
What is a world?
What was once a hairdressing salon has been turned into a temporary exhibition space where artists show their own genres and worlds in "What is a world?"
More than 20 artists from home and abroad
A selection of this exhibition's art: the erotic universe of the well-known Italian artist Giovanni Galli, the theatrical female animal figures of German Rudolf Bodmeier and the word world of the American Daniel Green.
Also Dutch artists as the underwater cities of the Dutch artist Gert van 't Riet, the idealized romantic world of the naïve, the ladies of Ben Augustus, the Utopia of Tobias Tebbe and the empire of Gerard van Lankveld,
"Museal": the Rotterdam way: abrasive, confronting and surprising.
We grow Bigger
The collection expands weekly with new pieces of Outsider Art including crossovers of other art forms such as photography, and runs until mid-December
Programming
Every Sunday there is a supplementary programme ranging from music, presentations to theatre.
So, visiting this exhibition more than once, remains worth your while.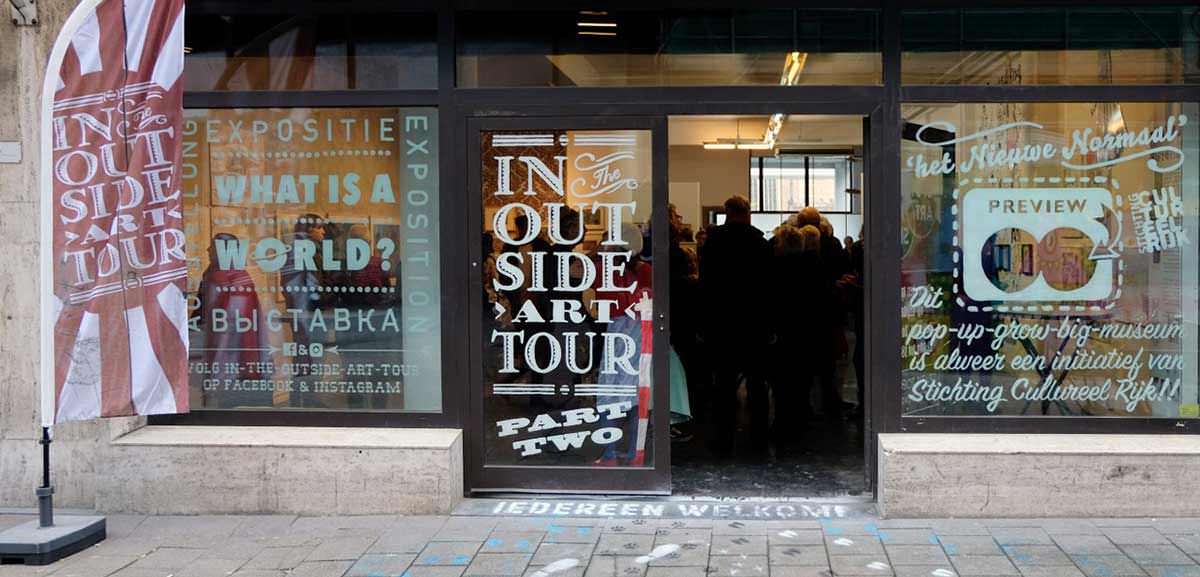 Location
Westewagenstraat 68, Rotterdam (behind the department store Hudson's Bay and around the corner from restaurant Dudok).
This was made possible by: Matrans Holding BV, Volkskracht. Elise Mathilde Fonds (Elise Mathilde Fund), the Municipality of Rotterdam and Pameijer.
Opening hours
Free admission. Open Friday, Saturday, Sunday from 12 p.m. to 6 p.m.
Our doors are open until and including Sunday, 17 December 2017.
Visit Facebook In-the-Outside-Art-Tour for our varied programme including our Sunday programme!
ARTISTS
Below is a selection of the artists we have brought to our Pop-Up-Grow-Big museum.
If you are interested in their work please contact us, then we can (probably) put you in touch with them.